*Disclosure: RAINYday Bibs offered me a bib in exchange for this review. BUT, I had planning on writing about them anyhow, AND I already have purchased several, so I'm passing the bib along to you!*
I have to admit something: I'm a lazy, lazy mom.

Well, I guess I should clarify: I think I have a touch of…how shall we say…distractibility…and by the time I finish chasing all the wild tangents of my brain, I'm too exhausted from my undisciplinedness to buckle down to the mundanity of sweeping the crumbs up off the floor and tackling the mountain of clothes.

Call me a thrill seeker. Who is a homebody.

If you will.

When Liam was born, way back 6 years ago, we were…clueless? I don't think we had even really figured our highchairs. So when Liam was about 6 months ago, he + me went on his first cross-country (airplane) trip to visit all his grandparents in the Pacific NW.

And my mom brought forth both a highchair and a bib.

Good Grandma. Clueless Mom.

By the time Logan came along, I decided it was easier to just strip a baby down to baby skivvies for meals.

And all the time.  Unless we were leaving the house.

I dunno. Summers in South Korea. Hot. Humid. Lazy mom. It all adds up.

And yet. And YET. I sorta have always wanted to be the sort of mom that bibs up her progeny at all the appropriate moments. So I have tried out LOTS of bibs. And then cried over the extra laundry.

I'm still pretty clueless. And I still often subscribe to the Diaper Only Dress Code for Dinner.

BUT, when I DO Bib UP! I now, exclusively, bib up with Rainyday Bibs. (I know this sounds cheesy, but it's 100% true and was way before writing this post!)
~1~
They are practical. The big ones catch messes. They offer great baby-coverage. (Ami is pictured in the Puddle Jumper-wipe off, and you can see how it covers her whole front.) The laminated cotton ones are wipeable for less-messy meals (ok, those don't really exist in my house, because my kids can make an ordeal even out of Saltines). The Drizzle bibs are absolutely perfection for catching the massive amounts of drool. (Side note: Amélie drools so much that she actually would get wet and cold this past winter.) I think these make GREAT shower presents!


~2~
They are SO cute. I mean. Seriously.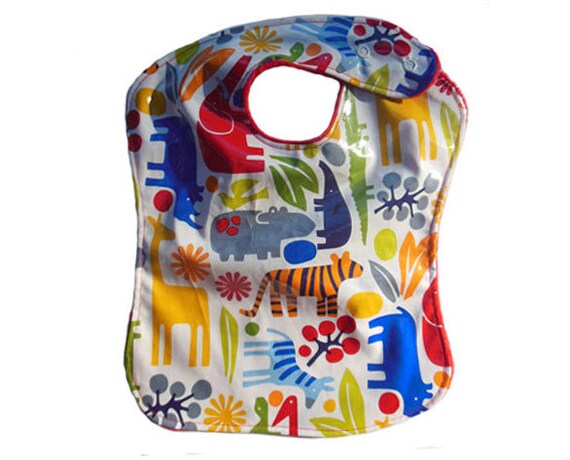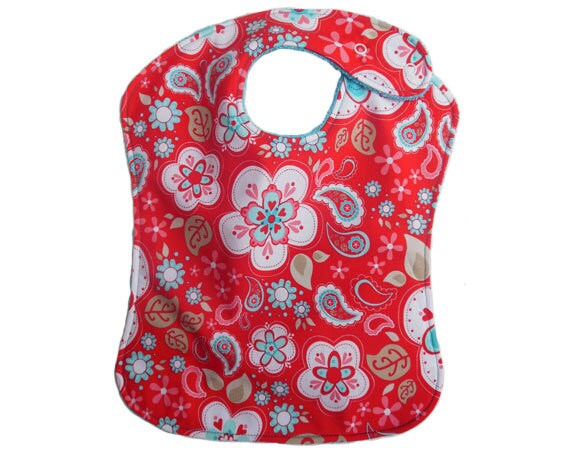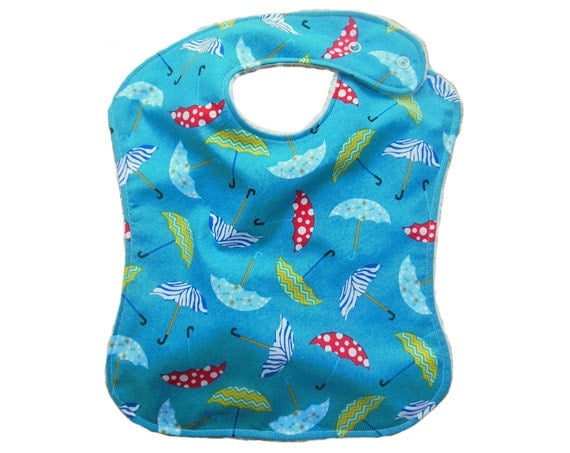 ~3~
They are really well made, and they really have quality craftsmanship.  The snaps make the neckline adjustable, which is great as your little one grows.
The momma who makes them is pretty darn amazing. She is the mom to some lovely ladies I grew up with and my kids now play with her grandkids. It's a small world when you are a Catholic homeschooler in the PacNW.

~5~
You get to win one!!
The great news is that I'm offering your choice of a Rainyday bib to WIN! If you are a mom, enter. If you are a grandma, enter. (My mom and her friend keep these at their houses for when grandkids come!) If you know a baby, enter (this would make a great shower gift!).  Are you ready to Rafflecopter?!?!?
RAINYday Bibs has also graciously offered to reimburse shipping costs (to addresses within the US) for every reader ordering in the month of May – so remember to mention FromLittleHands in the notes to the seller! I also definitely suggest giving Rainyday Bibs the ol' thumbs up on Facebook as it's a great way to know when there are special offers and discounts.
Thanks to Hallie for hosting my favorite link-up!